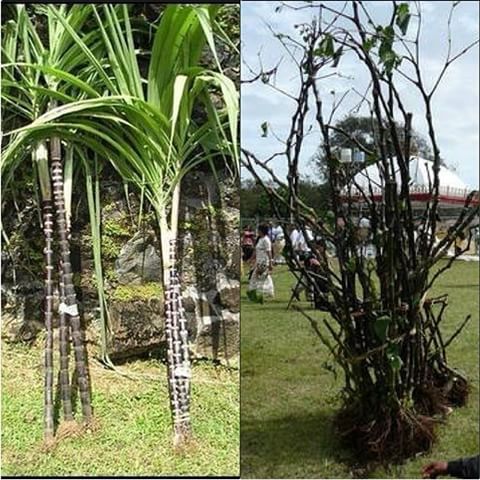 In ancient days, there was only one family living on one of the islands called 'Eveiki. They were Fevanga (father) and Fefafa (mother), and their only daughter named Kava. One day they heard that the Tu'i Tonga (king) had landed on the island and would be there for the night. Traditionally, if the Tu'i Tonga visited our villages, to show our respect and to honour him we brought him food cooked in an umu (underground oven or native oven). Fevanga and Fefafa thought that it was a blessing to have the king on their home island, so they decided to make an umu for him. They had only one Kape (big taro plant) left on the island. They hurried to get the Kape, but to their dismay they saw that the king was sitting under the shadow of the Kape leaves. Fevanga and Fefafa went back in tears, everything was hopeless. When they reached home they decided to offer their only daughter. They killed Kava and put her in the umu. The king heard what had happened and told his men to turn back to Tongatapu (the main island), for he felt sorry for Fevanga and Fefafa and their poor daughter.
Fevanga and Fefafa left the umu and never opened it again. A few weeks passed and they found that two plants grew up out of the grave, one on Kava's head and the other on her feet. They looked after those plants until they grew higher. One day they saw that a mouse ran towards the plants and took a bite on the plant on the head, and then returned slowly, seemingly drunk. Then he ran toward the feet, took one bite of the plant there and then he looked well again. They knew that the plant on the head was strong so they named it Kava (after their daughter). They named the one on the feet "To" (sugar cane) for it was sweet. Since that day Kava and To are the noble plants in our Tongan culture. We use them on our big and special occasions such as weddings, funerals, coronation of the king, and even for the church's special occasions for we believe that this sacrificial act signifies the sacrificial act of God on the Cross. Kava was a youth, a daughter whose mission was to offer herself, to show her love and loyalty to the king.
Sometimes we do not recognize the strength and power that young people contribute to the works and life of the family, church and society. I believe that the offering Kava made is the supreme mission experience for any Tongan that I have ever known. Let young people get involved in mission through participation with God in being wholeness and life.
I love it when these old traditional stories still hold a relevance to our modern lives. You've got to Love Kava
To be informed of the latest articles, subscribe: